Nothing says summer like good tunes and a popsicle right? We have been blasting the TROLLS WORLD TOUR soundtrack in our house, and we even made some delicious rainbow popsicles to go along with our TROLLS fun! These treats were inspired by the magnificent Queen Poppy of course! They are easy to make, super tasty, refreshing, and the perfect treat to pair with a TROLLS WORLD TOUR movie night!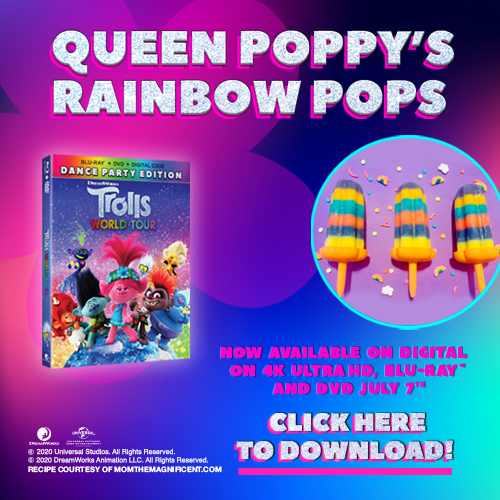 Queen Poppy's Rainbow Pops
This is a six layer rainbow popsicle, the perfect treat to enjoy on a hot summer movie night. This is great recipe that the kids can help with too, no baking required! Mix, set and enjoy. Check out the recipe! 
Ingredients:
2 cups of milk
1 package of instant vanilla pudding
Gel paste or food coloring – pick 6 colors you would like
Popsicle molds
Directions:
Make the pudding according to the package instructions.
Let the pudding stand to thicken for 2-3 minutes, but do not fully set.
Divide the pudding into 6 bowls and add your food coloring to each bowl and mix well.
Layer each color into your popsicle molds one at a time, freezing each colored layer for 30 min. Repeat until mold is full.
Freeze for an additional 3 hours or overnight.
Once completely frozen, enjoy!
Have you seen this movie yet? It has quickly become a family favorite. The music, the characters, and the pure joy it brings to us whenever we press play really does make this the perfect family movie! Queen Poppy (Anna Kendrick), Branch (Justin Timberlake), and the rest of your favorite Trolls are back for another musical adventure that's bigger—and louder—than ever before! Justin Timberlake and Anna Kendrick are a comedy/musical match made in heaven. The soundtrack is amazing! As a parent, I love that Trolls has taught my kids that being different is okay, and that we all have a place and purpose. Plan a TROLLS WORLD TOUR movie night and enjoy Queen Poppy's Rainbow pops! 
OWN IT ON DIGITAL NOW AND 4K ULTRA HD, BLU-RAY & DVD JULY 7, 2020 
Website: https://uni.pictures/TrollsWorldTour
Trailer: https://uni.pictures/TrollsWorldTourTrailer
Facebook: https://www.facebook.com/DreamWorksTrolls
Twitter: https://twitter.com/Trolls
Instagram: https://www.instagram.com/Trolls
#TrollsWorldTour
This is a sponsored post in partnership with DreamWorks and TeamClick. I was provided with compensation in exchange for recipe creation. All opinions are 100% my own.