The PAW Patrol is ready to defend the kingdom in the all-new DVD, PAW Patrol: Rescue Knights! Check out this new PAW-tastic recipe inspired by the medieval episodes, coming to DVD on June 7. Checkout these easy and delicious Colorful Castle Cupcakes!
You'll be the talk of the kingdom when serving up these fun treats! The best part is you can make these from scratch or with store bought cupcakes, just as fun! Click the link to download the full recipe for a PAW-some treat you and your family can bake together: https://bit.ly/PPKnightsCupcakes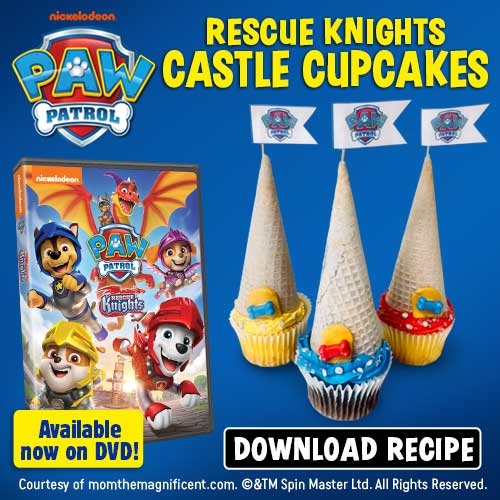 Colorful Castle Cupcakes 
Ingredients: 
Cupcake mix in your choice of flavor
White Icing
Food dye (green, blue & red)
Silver sprinkles
Silver candy dust
Sugar cones
Gold Fondant
Toothpicks
Dog bone candies
Directions: 
Bake cupcakes as directed.
While cupcakes cool, separate icing into 3 bowls and add 1-2 drops of dye for each color & mix well.
Frost cooled cupcakes.
Dust each sugar cone with silver candy dust, tapping excess off over a bowl.
Place silver sugar cones on each cupcake.
Roll out gold fondant and cut into small door shapes.
Place fondant door onto the middle of each sugar cone using a drop of icing as glue.
Add dog bone candy on to the middle of the door.
Decorate the rim of cupcake with more silver sprinkles.
Download and print the Paw Patrol Castle Flags, cut, and tape to toothpicks.
Using small drop of icing as glue, fasten to the back of the sugar cone.
Enjoy your Castle Cupcakes!
Download Castle Flags Here: Castle Flags
PAW Patrol: Rescue Knights synopsis:
A baddie pup named Claw, riding a dragon, Sparks, has descended upon Barkingburg, and it's up to the PAW Patrol to protect the kingdom!  No rescue is too big, no pup knight is too small! With new Dragon Knight Vehicles and suits of Dragon Knight Armor, our team take to land, air, and moat to stop the trouble-making Claw and his mischievous Dragon.
PAW Patrol: Rescue Knights episodes:
Quest for the Dragon's Tooth
Pups Save a Dozing Dragon
Pups Save a Tournament
Pups Save the Baby Dragons
Rescue Knights Break the Ice
Pups Save the Bone in the Stone
Gather up the pups and be sure to checkout these all new episodes on June 7th! 
This is a sponsored post in partnership with Nickelodeon. All opinions are my own.