Get ready for high-flying adventures with the PAW Patrol pups in the brand-new DVD PAW Patrol: Jet to the Rescue, featuring an exclusive, all-new original TV movie and four fan-favorite episodes from the number-one ranked preschool show on television, produced by Spin Master Entertainment and airing on Nickelodeon. To celebrate I have a fun craft and activity to share with you!
Get ready to zoom back to Barkingburg with the pups in this all-new TV movie. When the scheming Duke of Flappington steals a powerful levitation gem from the royal castle, it's up to the PAW Patrol to jet to the rescue before the town is lost forever. Then, join the PAW Patrol for even more high-flying adventures where they'll save a stunt pilot, one of Mayor Humdinger's kittens and even Skye when she breaks her wing flying to Jake's Mountain.
My daughter and I love the PAW Patrol gang. There is always fun to be had, and Jet to the Rescue is no exception! Of course there are some big obstacles these pups have to face, and their new Jets sure come in handy. Your kids are going to love these new episodes! 
PAW Patrol: Jet to the Rescue episodes:
Jet to the Rescue
Pups Save a High-Flying Skye
Pups Save Skye
Pups Save a Flying Kitty
Pups Save an Ace
Check out this fun PAW Patrol Craft. Make Your Own Flight Goggles & Badge! 
Celebrate fantastic female flyers with this fun and educational coloring sheet that features the PAW Patrol's Skye and four real-life female aviators! http://bit.ly/PAWPatrolJTTRWomenPilots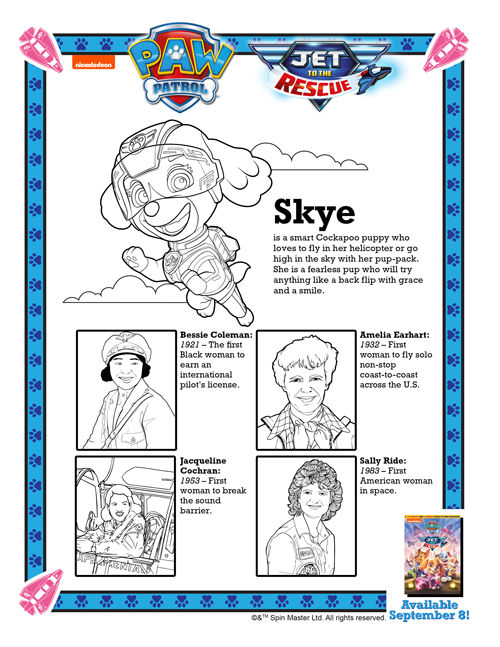 PAW PATROL: JET TO THE RESCUE is available now on DVD!