Oh Hoppy Day, Spring is in the air! Before you know it, Easter will be here. Get a head start on filling your little bunnies baskets at Spotsylvania Towne Center. With over 120 department stores, specialty shops, restaurants, and entertainment venues, you will certainly find something for all ages and interests! Check out my top Easter Basket picks and see what family fun is in store this season!
Easter Basket Picks
I love filling up my kids baskets with items besides sweet treats, especially with things that they may be needing this season anyways like new sandals, bathing suits, and outside toys. See what I plan to add to our baskets this year 🙂 
Crocs- There are so many types of Crocs to choose from: classic, sandals, and even a Disney line so your little ones can sport Mickey or their favorite Disney Princess! I love the selection and they have a few great sales going on and coming up! My kids would jump for joy to see a pair in their basket!
ÿ
Build-A-Bear- This is an activity that any kid would be so excited to do! You can give your child the gift of the experience by giving them a gift card in their basket with the image of the bunny bunch, or their favorite charterer they want to see stuffed 🙂 The Bunny Bunch has a few different bunnies and outfits, as well as spring time bears in the collection. They are really soft, and totally huggable! 
The Children's Place- If you are looking for the perfect Easter Sunday outfit, check out Children's Place. They have so many adorable dresses, vests, polos, shoes and accessories to create the cutest outfit! You are sure to find an outfit for each on eof your little bunnies! 
Hallmark- Looking for a sentimental Easter activity, or good way to tell the Easter story? Hallmark has a collection of Peanuts Easter items that include Snoopy as the Easter Beagle, decorative items, and the beloved story book. I think their Hoppy Easter Dancing Bunny is so precious, your kids will light up to see this in their basket! 
Books A Million- There is a vast selection of Easter stories kids will love! I always put a book inside my kids baskets. It is a great way to add to your collection; silly, favorites, religious, they have it all! I also like that they have a board game and toy section too. You are sure to find something to top off the baskets here! 
Bath and Body Works- We can't forget the teachers, friends, and teens in our lives. Bath and Body Works has their spring and summer scents/products on full display. They have some really great deals on facial masks, candles, and gift boxes! These would make a wonderful spring time gift 🙂 I know I would love to receive one of their special boxed sets! 
Easter Family Fun- 
March 10, 10am–11am at Malawi's Pizza
Get ready for the best Breakfast EVER! It's Breakfast with the Easter Bunny at Malawi's Pizza. $7 + tax per person, cash or credit: This includes one 8″ Pizzetta with Scrambled Eggs and Cheese (up to 3 additional toppings can be added) and a Small Fountain Beverage with Free Refills. Space is limited, first come first served (no registration required). Full menu will be available at regular price.
All events are subject to change or cancellation without notice. See Customer Service Center for Details.
March 10–March 31, Center Court
Monday–Saturday 11am–8pm and Sunday Noon–6pm
Giving Egg-stra Promotion, March 10–March 16
Buy any package and receive a complimentary sheet of wallets.
All events are subject to change or cancellation without notice. See Customer Service Center for Details.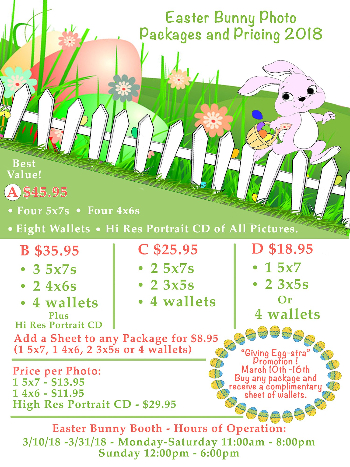 Head to Spotsylvania Towne Centre and get your Easter Baskets filled, then be sure to see the Bunny himself! For a current list of promotions click here. Happy Easter & Happy Shopping! 
This is a sponsored post in partnership with Spotsylvania Towne Centre. As always, all opinions are 100% my own.